What Our Pediatric Therapists Do
What Our Pediatric Physical Therapists Do: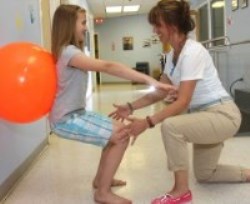 Our physical therapists teach the skills to maximize a child's ability to move around and participate in the activities of his/her environment. Physical therapy focuses on the "big" muscle movements (e.g., rolling, walking, running). This involves strengthening muscles, improving the range of motion of joints, and teaching the body and brain to use the muscles in the correct order for any movement. Some children need help to learn how to coordinate their body to do certain movements. This can be a baby learning how to crawl, or an older child learning to jump or not be as clumsy.
What Our Pediatric Occupational Therapists Do: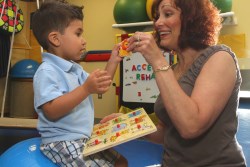 Our occupational therapists assist children with injuries, developmental delays and medical conditions so they can participate in daily activities to the best of their abilities and as independently as possible. Occupational therapy can help a child achieve success in play, learning, self-care, and social interaction using a holistic approach through use of therapeutic activities such as sensory awareness, and strengthening of fine and gross motor skills.
What Our Pediatric Speech Therapists Do: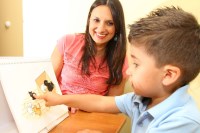 Pediatric speech language pathologists evaluate and treat communication, speech, language and social skills to promote age-appropriate functioning across different environments. Speech therapists determine the most useful approach for a child to communicate and express their wants and needs, whether it is pictures or voice output devices. This can replace negative behaviors that arise when a child has no functional means of letting others know what they want. Speech therapy also works on the physical ability to produce speech, the comprehension of auditory or written language, and the interpretation and use of social skills.