Pediatric Center at Access Rehab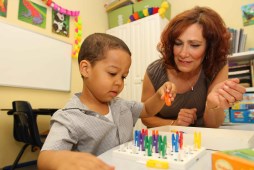 The Pediatric Center at Access Rehab is found in our Tompkins Street and Middlebury Edge Clinics. Our Pediatric Specialists treat infants, toddlers, and school-age children.
They begin by evaluating the relevant aspects of a child's skills and development. If a child requires therapy, goals and interventions are then established.
Parents are brought into the therapy process from the beginning and become part of the therapy team throughout the course of treatment.
Conditions we treat include:
Developmental delays and disabilities
Sensory delays
Speech and communications disorders
Autism and learning disabilities
Gross or fine motor skill impairments
Cerebral Palsy
Attention deficit disorders
Feeding difficulties
Psychosocial dysfunctions